PureFlex Series 400 series ball valve is manufactured from advanced premium Derakane® 470 vinyl ester resin reinforced with Glass fibers. It is highly corrosion resistant and is suitable for many chemicals from (-)50°F to 215°F up to 275 psi. Size range 1" – 6".
PureFlex 400 series composite ball valve is a superior quality, ANSI Class 150 valve engineered with features not yet available inany other composite ball valve. Manufactured from advanced premium Derakane® 470 grade vinyl ester or Z-CORE® epoxy resin reinforced with fiberglass or carbon graphite. The valve is able to withstand severe corrosive media as well as hostile environments up to 275°F. The 400 series ball valve exceeds Class VI shut-off an its stem seal will meet your routine or most demanding service requirements. The massive one piece body meets ANSI B16.10 dimensions and its ISO 5211 universal mounting pad and flange mounting makes automation simple even with the valve in service. The 400 series valves are ½ the weight of alloy valves, offer maximum corrosion resistance, the elimination of product contamination and provide the ultimate in flexibility and value.
Pipe products range from 1" to 72" diameter based on application with a wide selection of fittings available. Our piping systems employ a variety of epoxy and vinyl ester resins. Coupled with six joining systems, this ensures precision installation, optimum systems performance and unmatched ease of assembly.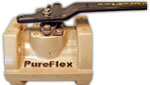 PureFlex 800 Series butterfly valve
Manufactured from Durcor-62™, PureFlex proprietary advanced fiber reinforced composite. Durcor-62™ reinforcing fibers are long and interlocking, this interlocking reinforcement system transfers loads throughout the fiber matrix, making the 800 series valve body virtually indestructible. It has tensile and compressive strengths that rival steel along with outstanding impact resistance that is unmatched in the industry. The strength of Durcor-62™ enables the 800 series valve to maintain ANSI face-to-face dimensions, be direct-threaded for lug design and allows it to be installed in any type of piping system without the need for special considerations. Durcor-62™ excels in temperatures from -60°F to 250°F and has only 0.001″ of thermal expansion across its full temperature range.
PureFlex 100 Series check valve
A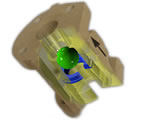 heavy-duty lightweight rugged corrosion resistant valve. Available in glass or carbon graphite reinforcement, as well as Derakane® 470 or advanced Z-Core® epoxy resins. The valve body meets ANSI B16.10 and flange connections are compliant to ASME B16.5 Class 150. Other flange drilling options are available.
PureFlex FlexChem Series Hoses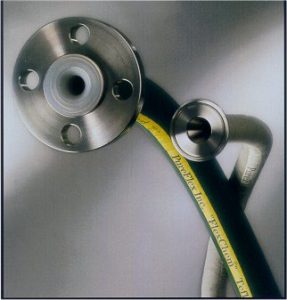 PureFlex FlexChem Series Hoses integrates design, hose and fitting manufacturing, testing and assembly – all under one roof. Add the largest selection of end fittings and it's easy to see why PureFlex is the company of choice for those with demanding tranfer processes.
FlexChem advantages:
Corrosion resistant Teflon is fully resistant to the broadest range of industrial chemicals and has a zero corrosion rate and lower life cycle costs.
Cleanable Non-stick, low porosity tube does not trap bacteria and can be cleaned with steam, detergents, caustics or solvents.
Sanitary FDA-approved materials meet or exceed 3A requirements.
Compatible Will not contaminate or impart a taste, color or odor to any media.
Flexible The most flexible rubber covered hose in the industry. Does not fatigue or stress corrode like metal hose.
Durable Designed for extended use in hostile environments involving severe chemical, thermal, and mechanical stresses. Does not suffer aging or embrittlement, even with extreme thermal cycling.
Available in 1/2″ through 6″ diameters, and from 100psi to 525psi depending on size.
Hose cover options:
Scuff sleeve Protects the hose exterior from damage when dragged over rough surfaces.
Fire sleeve Protects hose from extreme exterior temperatures. Used for insulating hose. Protects personnel who handle the hose from extreme interior temperatures.
Polyolefin Provides a smooth, cleanable covering over braided hose.
Armor guard Protects hose from kinking by not aloowing handler to exceed bend raduis.
Spring guard Provides kink resistance and protects hose exterior from scuffing and damage when dragged over rough surfaces.
Over 40 standard fitting styles are manufactured, including: flanged, sanitary, JIC, NPT, cam lock. All fittings feature PureFlex's exclusive high performance blowout-proof barb design.
Ultra-smooth internal surface finishes meet or exceed Pharmacopoeia Class VI, FDA, USDA and 3A standards.
PureFlex's PureSite Teflon sight gage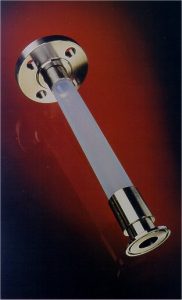 The ultimate answer to all your sight gage needs. Unlike traditional clear PVC or flexible sight glass tubing, Teflon tubing will not absorb media and discolor over time. This feature alone makes the PureSite unmatched compared to any other sight gage material of construction.
Ideal for:
Visual inspection
Liquid level gage
Magnetic detection for metal particle monitoring
Dip tubes
Resistant to:
Chemical attack
Thermal shock
Shattering
Cracking
Stress
Aging
Ultraviolet light degradation
Industries:
Pharmaceutical
High purity
Ultra pure water
Food and beverage
chemical
Cryogenic
PureSite sight gages can be manufactured with a built-in gallonage tape, too!
TaskLine® Gaskets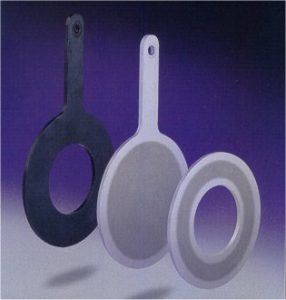 Through a proprietary process, FDA-approved, pure virgin PTFE resin is compression molded around and through a 304-stainless steel, perforated metal insert. After oven sintering, every gasket undergoes a 15,000-volt spark test to check for pinholes. The porous-free PTFE resin 100% encapsulates the stainless insert, isolating it from any fluid contact while in service.
Task-Line® gaskets are molded to size, 1/2″ through 24″ in class 150# and 300# ANSI ratings with a thickness of 1/8″ or 3/32″, Installation is quick and simple. Task-Line® gaskets are self-aligning and seat easily to any flange in almost any condition.