Ethylene Flexijoint®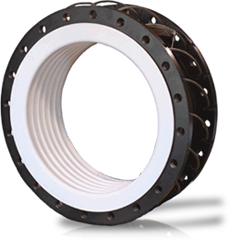 Ethylene Flexijoint PTFE expansion joints are flexible connectors and tremor barriers designed  to compensate for misalignment, absorb expansion and contraction, and  isolate vibration and shock in process piping, tanks and pumps. They  also offer a low spring rate to protect stress sensitive FRP, glass or graphite equipment.
Flexijoints are available in sizes 1/2″ to 42″ and from 2 to 12 convolutions for maximum movements.
Flexijoint has almost universal chemical inertness,  high and low temperature resistance, invulnerability to ozone and  sunlight, outstanding flex life, and low acoustical impedance (sound  dampening properties).
FlexArmor®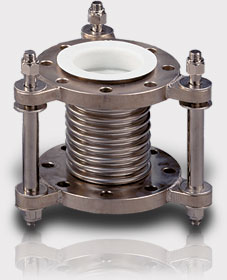 Ethylene Corporation's Flexarmor Flexijoint expansion  bellows combine the high pressure rating of a metallic expansion joint  with the high temperature, near universal corrosion resistance of PTFE. They are designed for services where the unreinforced Flexijoint PTFE bellows is unsuitable.
Seamless, heavy walled, isostatically molded PTFE liners provide excellent resistance to permeation. This high integrity liner offers a superior alternative to the conventional PTFE spray coated or seamed liner. They are subjected to uncompromising quality control before and after lining of the bellows.
These bellows are available in most nickel alloys including Monel, Inconel and various types of  stainless steels. Available designs include; universal joints,  hinged-pinned and slotted, and gimbal types. Versatile manufacturing  techniques accommodate customization of Flexarmor bellows flanging,  overall length, movements and spring rates.
Pressure ratings for Flexarmor bellows are as high as 200 psig. The metallic outer bellows features uniform wall thickness and multiple ply construction for increased flexibility.
Lined Pipe Fittings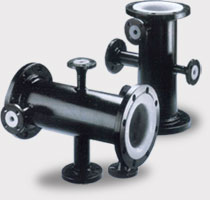 Our engineers were given the unrestrained challenge of  creating the highest integrity fluoropolymer lined non-standard  fittings, column sections and large diameter piping systems. Their only  requirement was that our lined equipment outperform the competition in  every way. More consistent quality, longer service in the most corrosive enviroments, better looking; simply the highest quality, most flexible  lining process worldwide.
We've made significant investments in new processes,  new equipment and state-of-the-art quality control equipment. This means you have Ethylene's continuing commitment to meet your toughest and  most corrosive requirements.
T-Line Strainer™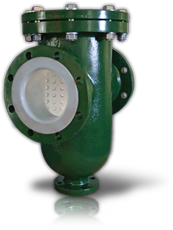 Protection for your downstream equipment
The Ethylene T-Line Strainer delivers maximum flow and  chemical resistance while protecting your downstream equipment from the  catastrophic damage of in-line debris. The strainer housing is lined  with ETFE (standard) or PFA (optional) and the basket is solid PTFE. T-Line Strainers are rated at 150 psi, available in sizes 2″ to 8″ and can operate continuously up to 400°F.
FLO-VU®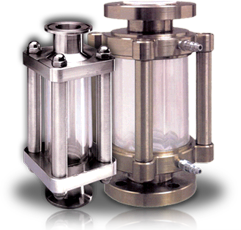 PFA and Glass Wetted Surfaces
The FLO-VU 360L sight glass; 1″ through 12″ diameter, features a full 360° unobstructed view with the high temperature and near  universal corrosion resistance of PFA.
Hightlights
Type 316 stainless steel flanging
304 hardware and PFA/glass lined wetted surfaces
Polycarbonate shield tubes
PFA hollow ball float
Chemraz® Fluoroelastomer Soft Seat
Full vacuum to 150 psi
Temperatures from -20° up to 300°F
pHampler®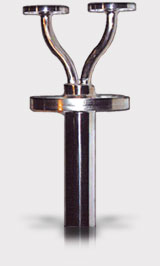 Reactor Sampling / Monitoring & Control System
The pHampler is Ethylene's patented reactor sampling and pH  measurement / control system for agitated reactors. The pHampler enables the reactor manway to be kept closed during sampling and / or  monitoring, eliminating fugitive emissions to dramatically improve  operator and environmental safety. Yield is improved with the systems  unprecedented sampling and in-line pH measurement and control  flexibility.
Armorlith®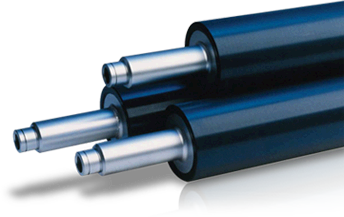 The Ultimate Ink Roller Covering!
Introducing the printing industry's #1 alternative to copper- and ebonite-covered rollers!
Armorlith is Ethylene's proprietary covering based on  Rilsan® Nylon 11 – a vibrator roller surface found on many modern  presses. It offers printers what they want most – improved print  quality, enhanced press efficiency and less downtime.
Ethylene is a leading provider of high performance  seamless fluoropolymer coatings, linings and accessories designed to  protect and restore equipment used in the printing industry. Some of the coatings we offer in addition to Armorlith include:
Nonstick Coatings for use on:
Side joggers
Heat sealing bars
Glue pots and pans
Edge guides
Head stops
Wear Resistant Coatings for use on:
Feeder rolls
Gripper bars
Fan blades
Metallizing Coatings for use on: