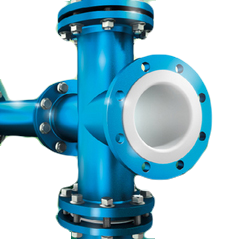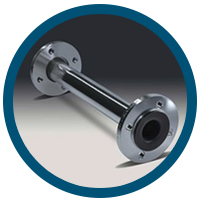 Superior Plastic Lined Carbon Steel or Stainless Steel Pipe & Fittings
Baum offers complete manufacturing capability from steel to plastic.  Paste extrusion PTFE is done on specially designed extruders and lining  uses highly automated production processes. Baum uses assets including  state-of-the-art transfer molding to ensure speed to market. Baum  manufactures plastic lined pipe, fittings, vessels, dip tubes, valves  and expansion joints that protect the steel pipe/fittings from corrosion using PTFE, PFA, ETFE, PVDF or PP. All PTFE/PFA parts are supplied in  accordance with the European Pressure Equipment Directive and ASTM F1545-15a Requirements.
Baum America fills a dual role as both a master warehouse and production  facility. Located in St. Albans WV, we have the benefit of a highly  skilled labor pool trained in the fabrication of plastic lined products. We are currently producing factory quality spools and specials to meet  your requirements.